Hong Kong, 18 January 2021: There were scenes of celebration at the High Court on Saturday when five members of Boase Cohen & Collins' legal team were formally admitted as Solicitors in Hong Kong.
The ceremony was the culmination of years of law studies followed by traineeship with the firm for Joyce Leung, April Kong, Vivian Yu, Hugo Sze-To and Mandy Tsang, who were admitted before the Honourable Madam Justice Maria Yuen, Justice of Appeal.
"In the 35 years since we were established we have built a reputation for developing homegrown talent and offering young lawyers a clear career path, but having five individuals admitted on the same day is a first for us," said BC&C Senior Partner Colin Cohen.
"It further underlines our commitment to investing in promising legal talent and developing the next generation of lawyers. With Joyce, April, Vivian, Hugo and Mandy, plus our other young Associates who have been admitted in recent years, the future of our firm is in good hands."
Joyce studied for her law degree at the University of Hong Kong, which included a spell as an exchange student at the University of Nottingham in the UK. She remained at HKU to complete her Postgraduate Certificate in Laws (P.C.LL.) and then earned a Master of Laws in International Business Law with King's College London.
April earned a Bachelor of Science with Honours in Biology (Biomedical Science) from York University in Canada, where she conducted research on Drosophila and later on developed an interest in the intellectual property area. She then studied for her Juris Doctor and P.C.LL. at the Chinese University of Hong Kong. Throughout her two years of training at BC&C, she developed interests in, inter alia, probate and estate administration and intellectual property.
Vivian completed her law degree at the University of Sussex in the UK, graduating in 2015. She gained her Master of Laws at HKU, where her areas of research included intellectual property, privacy and data protection, and then remained at the same establishment to study for her P.C.LL.
Hugo collected his Bachelor of Arts, majoring in English Studies and Politics and Public Administration, from HKU in 2014, having also spent a term at Peking University studying Putonghua. He completed his Juris Doctor at the Chinese University of Hong Kong, receiving the Dean's List Award for Outstanding Academic Performance, and continued his studies there after being granted a Sir Oswald Cheung Memorial Fund P.C.LL. Scholarship.
Mandy completed her law degree at the University of Keele with honours in the UK. She returned to Hong Kong and worked as a Paralegal in the insurance litigation department in a local firm before completing her P.C.LL. at City University. She joined BC&C as a trainee in 2019.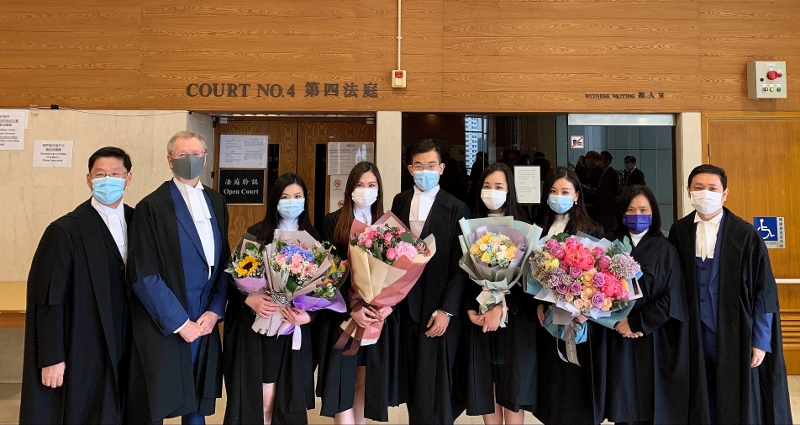 Newly admitted solicitors (from third left) April Kong, Vivian Yu, Hugo Sze-To, Joyce Leung and Mandy Tsang are pictured outside the High Court with BC&C Partners (from left) Teddy Lam, Colin Cohen, Fiona Chan and Alex Liu.