Ally Law retains top status in Chambers Global
Hong Kong, 30 March 2020: Ally Law, the global legal network in which Boase Cohen & Collins is Hong Kong's sole member, has earned Band 1 ranking as a Leading Law Firm Network, Global-wide in the 2020 edition of Chambers Global.
The news was welcomed by BC&C Senior Partner Colin Cohen, a past President of Ally Law and currently Chairman of its Expansion Committee. "While many legal listings lack credibility due to lack of research or by promoting paid-for rankings, Chambers is renowned for its integrity and neutrality. Therefore, this Band 1 status – achieved for the sixth year in a row – is authentic recognition of our service standards and continued growth," he said.
Ally Law provides sophisticated legal services to major corporations with a sharp focus on value and efficiency. It comprises 72 firms in 46 jurisdictions, with Colin having overseen robust recruitment of new firms in key markets, resulting in 30% growth since 2015.
This expansion was seen first-hand when Boase Cohen & Collins hosted the organisation's Asia Pacific Regional Meeting in Hong Kong last October with delegates from almost 90% of member firms in the region while Ally Law firms from Europe and the Middle East were also represented. It was the biggest Asia Pacific Regional Meeting in Ally Law's 30-year history.
In its review, Chambers Global noted: "Ally Law is recognised globally for its top-tier legal offering. High standards are assured through the annual evaluation of members. The network maintains quality across the board by additionally seeking client feedback to guarantee technical and practice standards are met."
Ally Law President Björn Welinder, a Partner in Swedish firm Lindmark Welinder, commented: "This year marks the 30th anniversary of the founding of our network and we are honoured to be named among the top providers of legal services worldwide. Approximately one in four of our member law firms is also ranked in Chambers and Partners' current publications, a testament to the quality of our counsel, our commitment to service excellence and our ability to represent clients almost everywhere they do business."
Ally Law's rapid response to clients' needs has seen the organisation launch its COVIDAlly blog to deliver first-hand information, insights and resources about the coronavirus pandemic. The microsite is a one-stop resource designed to help clients prevent, respond to, and mitigate the effects of Covid-19 in what has morphed into a worldwide medical, business and economic challenge.
Wendy Horn, Executive Director of Ally Law, added: "Our organisational mantra — 'We get it. We get it done.' — is intentionally straightforward. It signals to our clients that we understand the challenges they face when pursuing global opportunities. And it serves as a strong reminder to ourselves to always provide top-notch legal guidance and practical solutions."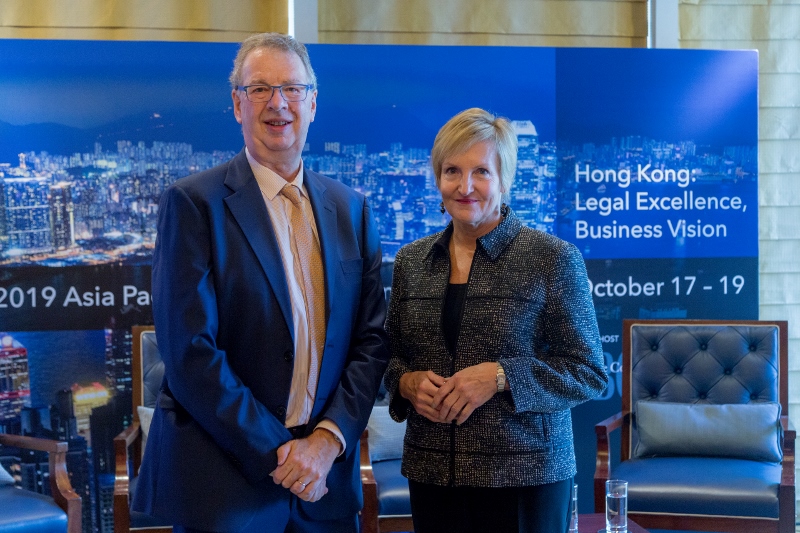 Colin Cohen is pictured with Ally Law Executive Director Wendy Horn.