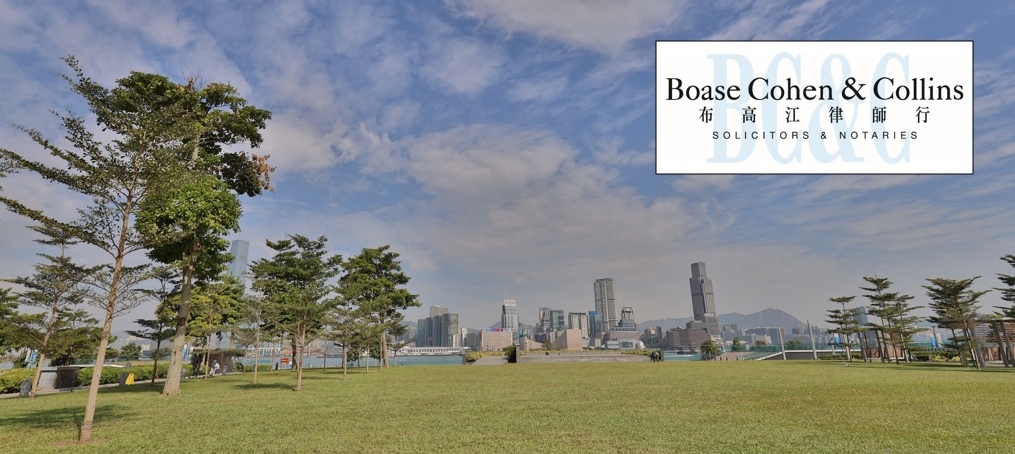 Signs we are winning the coronavirus fight
Hong Kong, 27 April 2020: While Covid-19 updates from around the world continue to make generally grim reading, it is a pleasure to convey some positive news as Hong Kong deals with the pandemic far more effectively than many jurisdictions.
First, use of video technology in our court rooms is gathering pace and, last Friday, we at Boase Cohen & Collins played our own small part in this new era with a judicial review hearing that was held remotely. The key players were at three locations, namely Court No.13 in the High Court, which had been adapted for the purpose (and indeed, had hosted a remote hearing the day before), and the respective counsel's chambers.
I'm pleased to confirm the all-day session went smoothly with no technical hitches. We had performed a test run three days earlier and IT staff were on standby at each venue although, thankfully, they had little to do. To all intents and purposes, it proceeded like a normal hearing with the judge and counsel – all in robes – on camera and portrayed on big screens. A point of note was that everyone still wore masks, which necessitated regular breaks so we could have a breather.
I participated in the hearing from Temple Chambers, where a sizable conference room had been set up with the requisite technical hardware. During the day, it was notable how many barristers and members of staff dropped in to view proceedings. Afterwards, there was general agreement within our team that it had been a success, obviously with room for improvement in regard to greater use of digital documents and electronic filing, and that video technology needs to become an integral part of our court system as it is in many jurisdictions.
As well, the Judiciary has announced all court proceedings will generally resume from Monday next week while court and tribunal registries will start to reopen by stages two days later. The continuing need for social distancing means court business will initially be conducted under reduced capacity. The development has been welcomed throughout the legal profession since our courts have been generally closed since the end of January, thus creating a significant backlog of cases.
Further good news comes from Hong Kong's health authorities. Our city yesterday recorded no new Covid-19 cases for the third time in a week, keeping the total number of infections since the pandemic began at 1,037, which is .014% of the population. Fatalities remain at just four, a remarkable number for a city of more than 7.4 million people.
Understandably, the authorities have urged caution, saying the contagion can only be considered under control if no new cases are recorded for at least one or two incubation periods, meaning two weeks to a month. The closure of 11 types of venue, including bars, pubs and gyms, must continue until at least 7 May although a rule requiring restaurants to operate at half capacity has now been lifted.
Of course, the coronavirus is exacting a huge economic toll globally and Hong Kong is no exception, with the tourism and F&B industries particularly hard hit, and our government is rolling out some US$18 billion worth of relief measures. But what next? Hong Kong is relatively safe thanks in part to becoming a virtual hermit state. All non-residents are banned from entering, except for travellers from Macau, Taiwan and mainland China who have not been to any foreign country in the previous 14 days. All airport arrivals are immediately tested and must wait for the results before beginning self-isolation. Some 1,315 people entered our city on Friday and another 932 on Saturday, most of them residents. To put these numbers in context, we had some 65 million tourist arrivals in 2018. Hong Kong is an international city and at some point will have to contemplate a gradual reopening for business.
Further on the horizon, there is the unfinished matter of Hong Kong's civil unrest, largely on hold due to the pandemic. As a reminder, there were scenes at the Cityplaza shopping mall in Taikoo Shing yesterday evening as scores of riot police went in to disperse a crowd of protesters. It appears inevitable that we are heading for a second summer of discontent.
But these are matters to be considered later. For now, we should enjoy the welcome good news. As usual, I will leave you with Dr David Owens' latest Covid-19 update for some sensible reading and a reminder that Ally Law's COVIDAlly blog is full of useful information and insights for the business community.
Stay safe, everybody!
Colin Cohen
Senior Partner
Boase Cohen & Collins