Flying into a global health emergency
It takes something unprecedented to stop Boase Cohen & Collins Senior Partner Colin Cohen going globe-trotting, and Covid-19 is that phenomenon. Not that being grounded in Hong Kong has made life any less interesting, as he reflects in his first – but hopefully not his last – travel blog of the year.
GOLD COAST, QUEENSLAND
We enjoy a wonderful introduction to 2020 with a family Christmas and New Year at our home on the Gold Coast. Daughter Marianne, son-in-law Vincent and grandson Nathan are here, plus friends from Australia and further afield, and the days are filled with long, lazy lunches and trips to the beach. And golf, of course, at nearby Royal Pines.
We begin our stay by watching former Masters champion Adam Scott win the Australian PGA Championship – the seventh and final year Royal Pines is hosting the event before it moves down the road to the Royal Queensland Golf Club for the next three editions. Thus inspired, Vincent and I take to the fairways where we are joined by my old University of Hong Kong friend, Professor Steve Rowlinson, and his daughter Sze Sze. We have a brilliant time but there's no danger of anyone confusing my game with Scott's.
MANILA
More golf! And more Steve Rowlinson! We're down in the Philippines to celebrate my 65th birthday, staying with our friend Jeremy Glen and enjoying the magnificent Santa Elena Golf and Country Club. The only disappointment is that Rowlie and Jeremy don't go easy on their newly qualified senior citizen playing partner.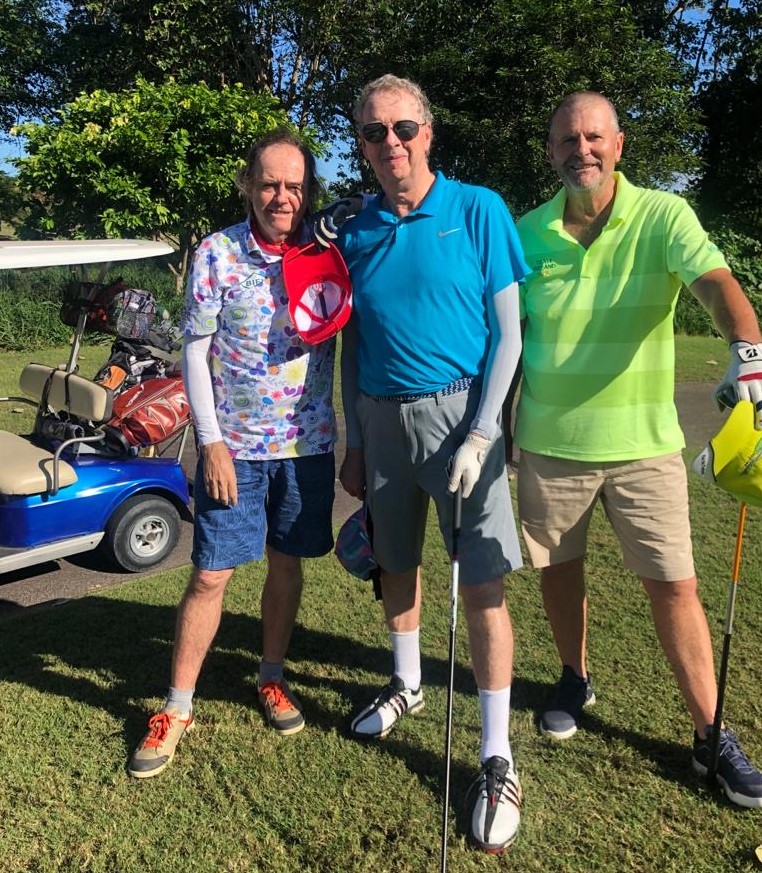 Celebrating 65 – my age not my score, unfortunately – with Steve Rowlinson (left) and Jeremy Glen.
The trip ends eventfully as we arrive at Ninoy Aquino International Airport to be told the Taal Volcano some 65km away has just erupted, the air is full of ash and all flights are cancelled. I ask how long we may need to wait and am informed Taal's volcanic activity usually lasts several days but in the year 1754 it went on for seven months. I retire to my hotel room – courtesy of Cathay Pacific – dreaming of an extended golfing break but, alas, Taal is better behaved this time and we fly home the following morning.
TOKYO
Reports begin emerging from the Mainland about a mystery new illness, a so-called coronavirus, spreading in the city of Wuhan. Within days, the outbreak is headline news and Hong Kong confirms its first positive case. Taking note of these developments, I fly out to spend Chinese New Year with friends in Tokyo. I catch up with semi-retired economics professor Louis Nthenda, an old acquaintance from the Oxford and Cambridge Society of Hong Kong, who has made Tokyo his home these last few years, and Terry Nakamura.
Hailing from Malawi but a citizen of the world, Louis has a plentiful supply of interesting stories, not least the time in 1964 when, about to take up a post-graduate scholarship at St Antony's College, Oxford, he bumped into civil rights activist Malcolm X during an overnight stop in Nairobi and invited him to speak at the Oxford Union. The subsequent event was televised by the BBC and generated enormous publicity.
LONDON
I'm home for three days and the public health emergency snowballs in this time. The Hong Kong government initiates border controls with the Mainland and imposes territory-wide school closures. Tertiary institutes follow suit and we are forced, with much regret, to postpone our annual Criminal Law Lecture due to be delivered by Lord Ken Macdonald, the former Director of Public Prosecutions for England and Wales.
Next on the agenda is a lightning business trip to London, where my packed schedule includes meetings with QCs Jonathan Laidlaw, Clare Montgomery and the inimitable Edward Fitzgerald, who is on sparkling form as usual. While I'm here, the UK records its first two coronavirus cases and I learn that back in Hong Kong you can't buy face masks for love nor money. I follow family instructions to purchase several boxes before my return flight.
MOSCOW
By now it's early February, Hong Kong records its first coronavirus-related fatality and our government introduces prison sentences for anyone breaching new quarantine rules when arriving from the Mainland – the daily updates are becoming alarming. But I have important matters awaiting me in Moscow.
My love for the Russian capital is somewhat tainted by memories of my stay here during the 2018 World Cup when I spent 22 nights in the Slavyanka Hotel (Gulag, more like) before being released early for good behaviour. This time I've gone upmarket by booking the StandArt Design Hotel with its promise of "a unique retro-futuristic interior" – which explains the model of a dog-walking cosmonaut in the lobby – and rooms decorated with original art objects. Personally, I don't care if there's a signed Pablo Picasso on my wall, it's not the Slavyanka so it's good enough for me.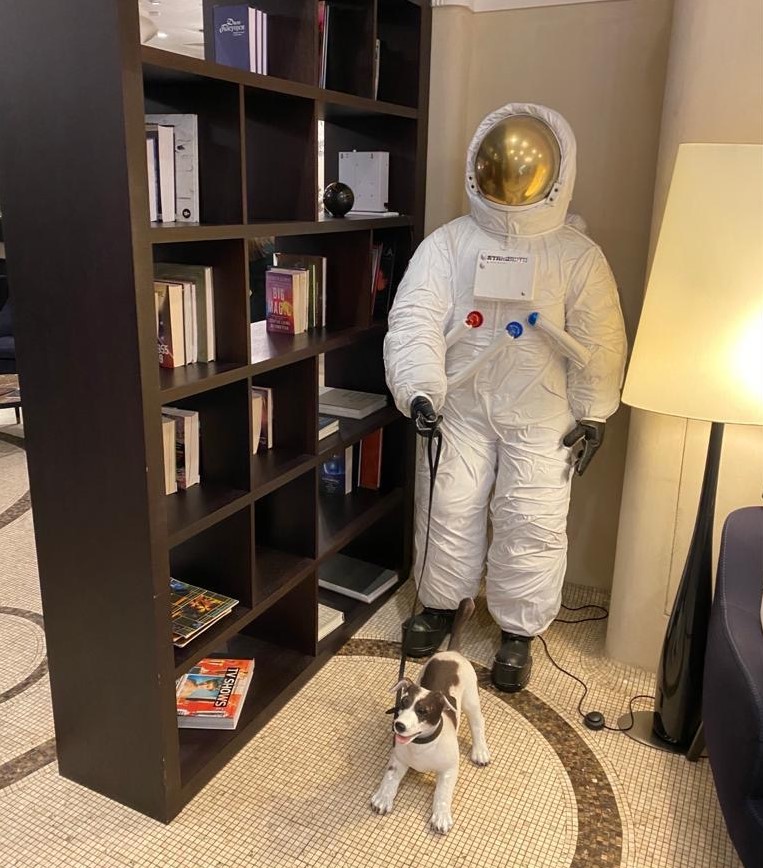 No, he's not here to check for Covid-19 – the lobby of my Moscow hotel.
The only disappointment on this trip is that I don't have to time to see full-time arbitrator and part-time football fan, rock band member and tour guide Andrey Gorlenko. Given Andrey's extensive knowledge of Moscow's countless vodka bars, perhaps this is no bad thing.
DOHA
Talking of football fans, no travel update would be complete without my Swiss friend Bruno Chiomento, who has flown to meet me in Qatar to scout venues for the 2022 World Cup. This trip is all about football, a notion not lost on thoughtful staff at the Mandarin Oriental who present me with a Chelsea-themed cake on arrival. We quickly discover all Qatar's newly built stadiums, bar one, are within a stone's throw of each other so watching two matches per day will be entirely feasible.
During one of our brief excursions I spot a familiar figure in the street attracting quite a crowd – Chelsea great and World Cup winner Marcel Desailly! He's on a visit to promote the tournament and is clutching the iconic trophy. We have a pleasant chat and, in my capacity as a keen amateur football referee, I sympathise over his sending off in the 1998 final, opining it should have been a yellow card at most.
Bruno's other hobby is golf and we end the trip with two rounds at spectacular Education City Golf Club, soon to host the European Tour's Qatar Masters.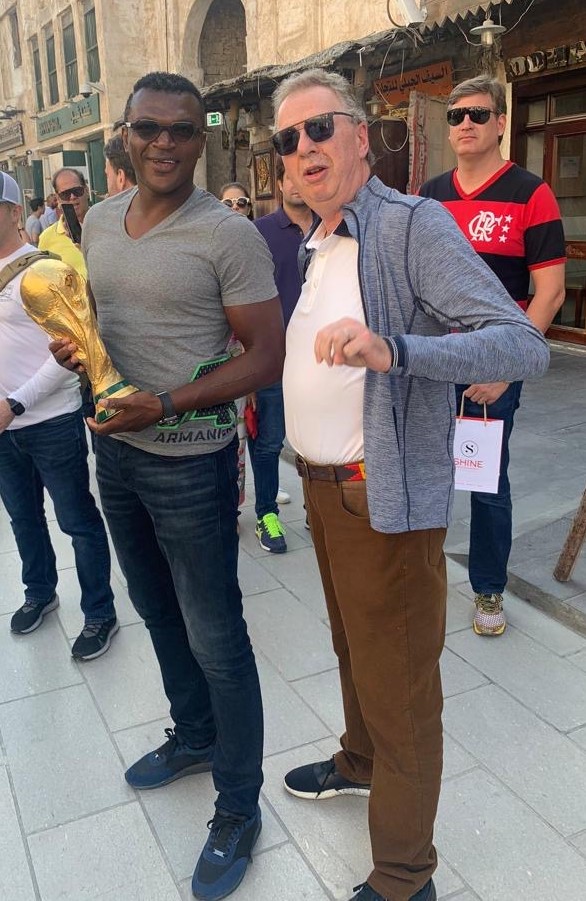 One Chelsea legend meets another! With Marcel Desailly in Doha.
PARIS
By now Hong Kong has mostly resolved its face mask shortage and everyone is wearing one, instead it's toilet rolls that are flying off the supermarket shelves. The world, it seems, is gripped by the coronavirus, or Covid-19 as it is now known. There's no sign of our schools opening anytime soon so Marianne, Vincent and Nathan have decamped to Paris where they are boarding with Vincent's parents.
I fly over to stay with them and enjoy a wonderful week among family and friends. I catch up with lawyer Pascal Paillard, a long-time colleague from the days when Ally Law was still the International Alliance of Law Firms, and old Hong Kong acquaintance Eric White, who now resides here. By pure coincidence my friend Tony Fekete, whom I've known since we were at school together, is also visiting Paris and so we are able to meet. One evening, Nathan and I replicate a photo we took four years ago during the Euro 2016 football tournament, lying on a bed with our iPads. We're both bigger this time.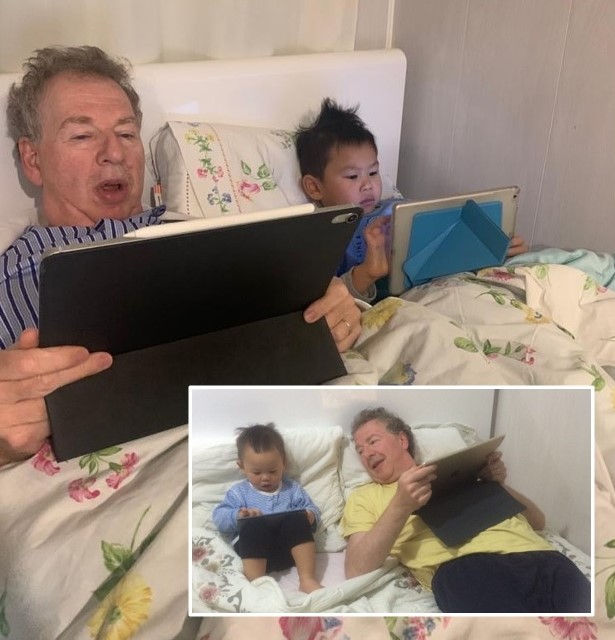 With grandson Nathan in 2020 and (inset) in 2016.
MELBOURNE
It's early March and the world appears to be going into meltdown. Italy and Spain are smothered by Covid-19 and the US is reporting infections across multiple states. There is a growing sense of panic. Hong Kong, seemingly having learned from the 2003 SARS epidemic, remains relatively calm in comparison, although the schools are still shut, as are the law courts – bar emergency hearings – a situation which is exacerbating the backlog of cases caused by 7,000-plus arrests made during the recent protests. On this issue, it is worth noting that Covid-19 has quelled Hong Kong's civil unrest far more effectively than any government or police actions.
At Boase Cohen & Collins we have, from the outset, resolved to stay open for business while observing strict hygiene protocols and minimising face-to-face meetings, relying instead on video link, telephone and email. The dedication and professionalism of our staff are admirable.
The traditional start of the Formula 1 season, the Australian Grand Prix, will provide a welcome distraction from the gloomy news. The long weekend begins well, with Thursday lunch in the company of old friends Alan and Alison Spinks at the magical Donovans restaurant on St Kilda beach. Everyone is looking forward to Friday's opening free practice, but then news arrives that a McLaren team member has tested positive for Covid-19. Throughout Thursday night and Friday morning, no one appears to be in charge or making decisions, but we guess what's happening when we see driver Alex Albon at breakfast in our hotel when he should be at the track. Finally, we receive official word – the race is off.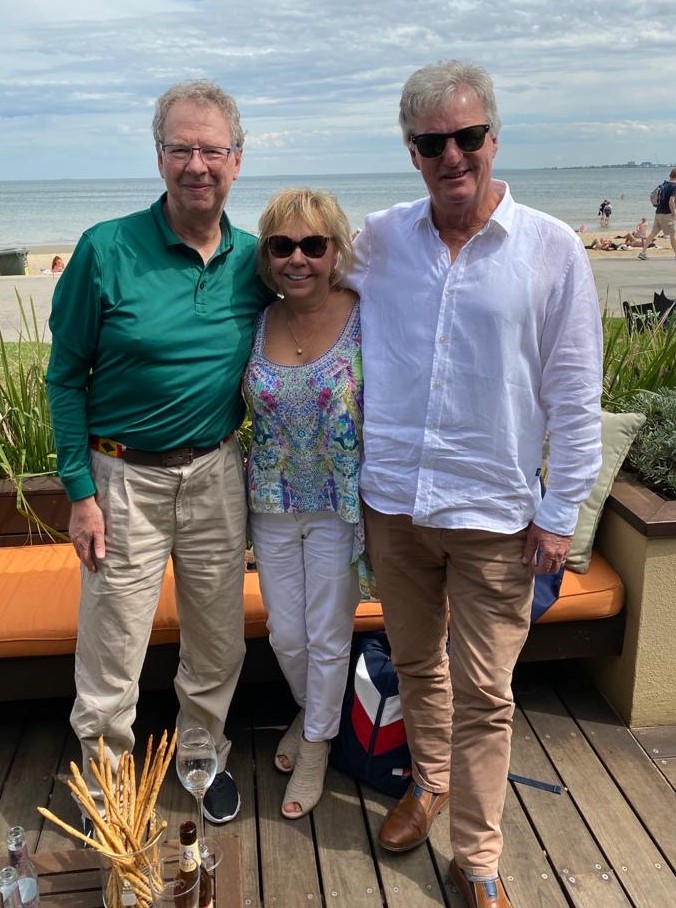 Lunch by the sea in St Kilda with Alan and Alison Spinks.
There's nothing to do but make the most of it. After all, there are plenty of familiar faces in town and Melbourne has countless fine restaurants. A highlight is lunch with Ally Law colleagues Michael Gorton and Andrew Parlour at the National Gallery of Victoria. We discuss the forthcoming Ally Law AGM in Vancouver and the Asia Pacific Regional Meeting scheduled for September in Bali. "See you soon," we say. Little do we know.
SYDNEY
A poignant occasion to close this Australian trip as I fly to Sydney for the funeral of our much-loved friend and work colleague Charlie Cook, who has been taken from us far too early following a resolute battle with illness. An outstanding lawyer widely admired in the profession, Charlie was a Consultant with Boase Cohen & Collins for 16 years and, typical of the man, had continued working with his customary diligence and passion for law right up until his passing.
I'm honoured to speak at the service and I recall a man who was always the life and soul of the party, someone with a broad smile and booming laugh who rarely took anything too seriously. A devoted Liverpool fan, our football rivalry added to the banter and we had a tradition that whenever our teams clashed, the loser had to buy a cake for the office. I tell the audience how, after a narrow Chelsea win in which Charlie complained furiously they had "parked the bus" – that is, played defensively – his cake of choice was a team bus blocking a set of goalposts. Our staff loved it.
The afternoon concludes with a Celebration of Life at Avalon Surf Life Saving Club, offering glorious views along Avalon Beach, during which friends and colleagues reminisce about one of life's good guys. Farewell, Charlie, may you rest in peace.
HONG KONG
My parents love sea cruises but they've never been on one like this. Currently, they are celebrating their 66th wedding anniversary trapped in a suite on the Silver Shadow, which is marooned outside the Brazilian port of Recife with 300 passengers and 200 crew aboard. Against the advice of their three sons, Mum and Dad have opted to proceed with the trip – from Rio de Janeiro to Fort Lauderdale via the Caribbean – despite other cruises coming to grief with Covid-19 cases. As we feared might happen, a passenger has tested positive and now the British and Brazilian governments are debating what to do while everyone stays in their suites, the only visitors for my parents being a doctor and nurse who knock on their door each day to take their temperatures.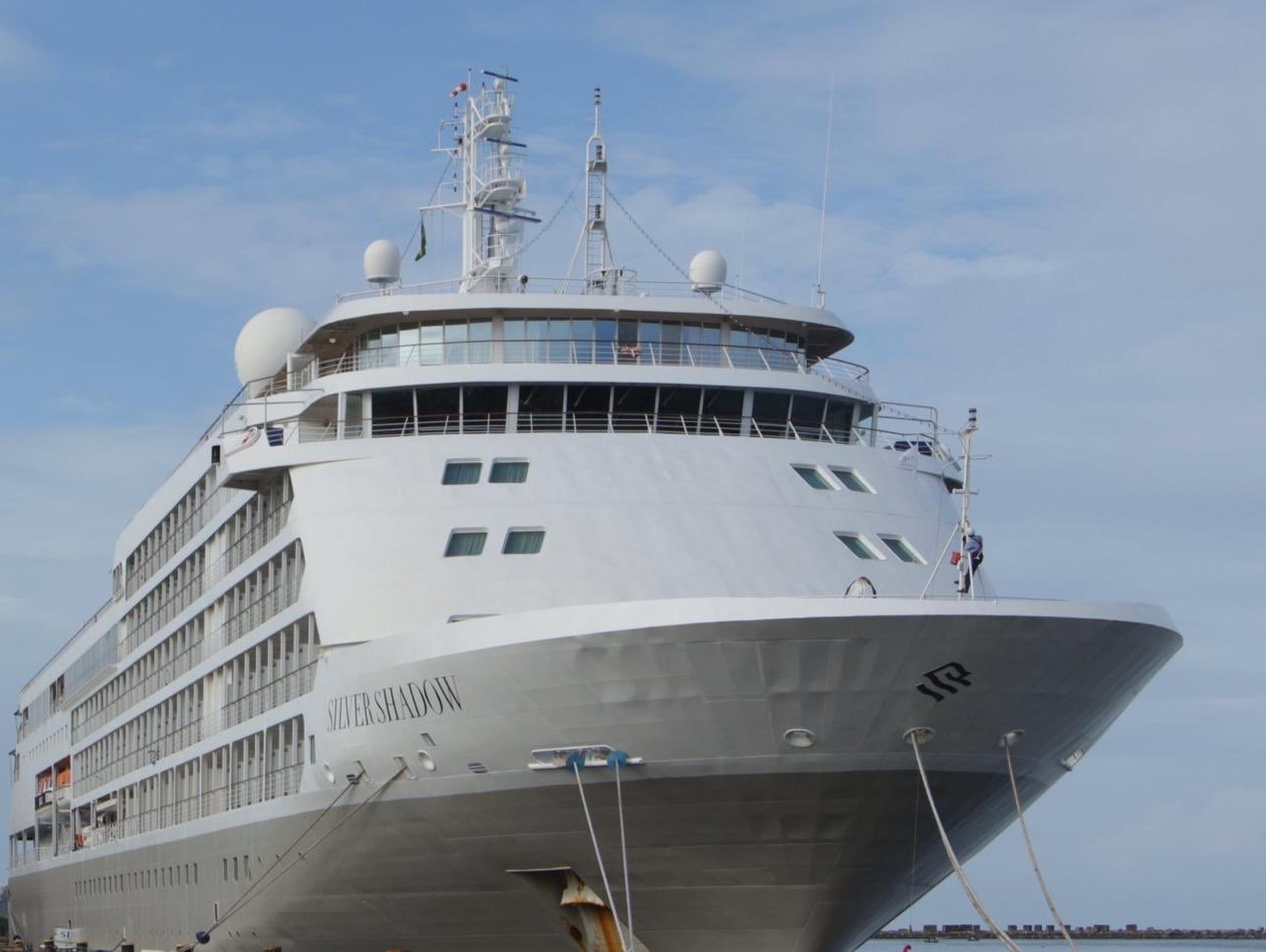 The Silver Shadow – Mum and Dad and were glad to finally disembark.
I'm doing self-isolation myself, having arrived back from Melbourne 24 hours before the Hong Kong government's mandatory 14-day quarantine requirement kicks in, but deciding I should be a good citizen and do it anyway. My days at home are spent chatting with Mum and Dad – having taught them how to use Facetime – while brother Malcolm in London lobbies the authorities to get their act together. Finally, after more than a week, cruise company Silversea charters a flight to bring everyone home.
HONG KONG (four and a half months later)
Grounded! A resident of Hong Kong for almost 40 years, this is the longest period I've ever spent here as Covid-19 renders travel all but impossible. Much has happened: Beijing has announced and implemented a new national security law, triggering inevitable protests and 370 arrests on the 1 July handover anniversary holiday; Hong Kong's impressive Covid-19 health record – including a three-week streak in June with no locally transmitted cases – has unravelled, with fingers being pointed at our government's quarantine exemption policies for certain types of travellers; and 12 opposition candidates have been disqualified from the Legislative Council elections, which Chief Executive Carrie Lam has postponed for a year.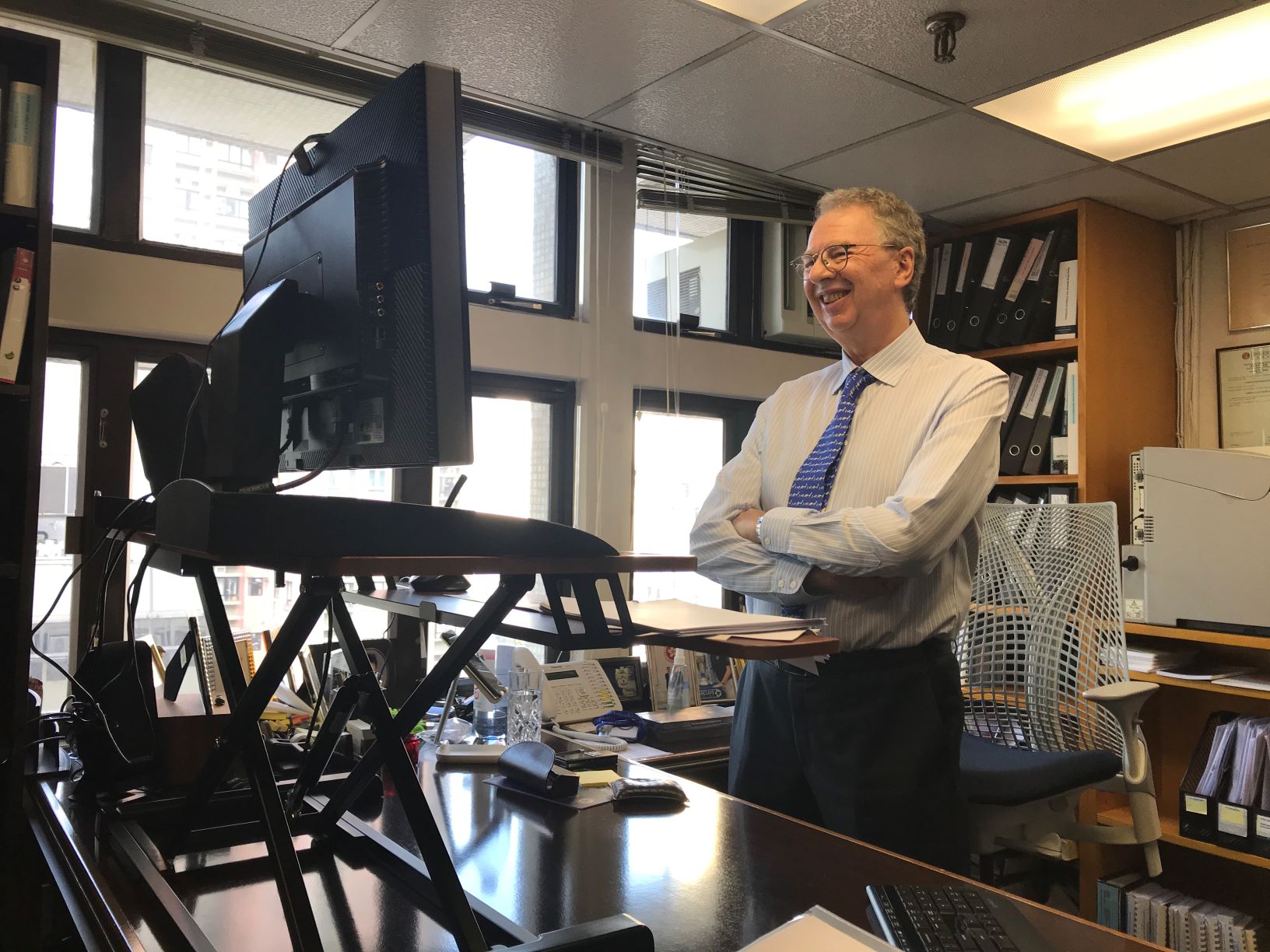 Video conferencing in my office, a regular occurrence these days.
I'm having massive travel withdrawal symptoms. My planning this year was built around a month at the Euro 2020 football, now postponed for 12 months, two cricket tests at Lord's and at least four F1 races. Not to mention the usual business meetings.
On the plus side, my video conferencing skills are now peerless; this new life without flying has allowed me to go on a health kick, engage a personal trainer and lose 7kg; and I'm seeing a lot more of Nathan. To cap it all, F1 is back on our TV screens. I'm there in spirit.