Covid-19 protection is a right for all
Domestic helpers have suffered more than most during Hong Kong's prolonged battle with the coronavirus. Boase Cohen & Collins co-founder Melville Boase outlines some of the difficulties they are facing.
Hong Kong, 21 September 2020: United Nations Secretary-General António Guterres did not mince his words when assessing how Covid-19 has exacerbated inequalities and divisions on both a global and national level. Delivering a recent online lecture for the Nelson Mandela Foundation, he compared the pandemic to an "x-ray" that had revealed "fractures in the fragile skeleton of the societies we have built".
He commented: "It is exposing fallacies and falsehoods everywhere: the lie that free markets can deliver health care for all, the delusion that we live in a post-racist world, the myth that we are all in the same boat. While we are all floating on the same sea, it's clear that some are in superyachts while others are clinging to floating debris."
Here in Hong Kong, it is fair to say that those hanging on for their lives in the stormy waters include the territory's many migrant workers, particularly domestic helpers. If the coronavirus has brought economic hardship, social disruption and associated mental and physical health concerns for most residents here, then imagine how these issues are magnified for the more vulnerable members of our community.
In late July and throughout August, as the so-called third wave of infections rolled through Hong Kong and our government implemented the strictest social distancing regulations we had experienced thus far, domestic helpers were at the sharp end. The Mission for Migrant Workers, the NGO which performs sterling work in protecting the rights of helpers and giving emergency assistance to those most in need, saw its caseload increase significantly. The most common problems included helpers having their contracts terminated due to their employer suffering loss of income or relocating, being ordered to work on their rest day, or lack of face masks and other personal protective equipment.
Such cases underscore the fundamental issues regarding helpers' rights which the government has failed to address despite years of criticism. These include: the requirement for helpers to live with their employer, which invariably leads to friction and overwork; the Immigration Department's practice of prosecuting helpers for breach of condition of stay if they report they are required to work beyond the terms of their contract; and the "two weeks rule" which requires helpers to leave Hong Kong within a fortnight of termination of their employment for whatever reason, leaving them in an almost impossible situation should they wish to pursue a claim against their employer.
Helpers living with their employers have reported increasing levels of mental and physical stress during the pandemic. In many cases, they face higher workloads due to adults working at home and children staying away from school. They cannot relax in the small private space they are given. Sometimes they are required to home quarantine, which leads to them being asked to work on their rest day.
Social distancing regulations add to helpers' difficulties when they gather in parks and other communal areas on their day off. In early August, when outdoor groups of no more than two people were allowed, Hong Kong police conducted enforcement actions in Central and Causeway Bay, issuing HK$2,000 fixed penalties – bearing in mind that a helper's minimum monthly wage is HK$4,630 – to offenders. Some officers brought large rulers to measure whether pairs were maintaining a distance of 1.5 metres. As one helper commented: "It is a shame that, instead of providing us with some space to rest, they want to project us as the Covid-19 spreader and treat us as though we are criminals."
But Covid-19 has exposed further concerns. Crowded dormitories at recruitment agencies have put helpers who are between contracts, and other vulnerable migrants, at risk of contracting and spreading the virus. Simply, the Hong Kong government and countries that send workers to this city are neglecting their responsibility to provide decent accommodation.
The Immigration Department often takes four to six weeks to approve a new visa for a helper, but sometimes this can stretch to three months, meaning the helper has to bear the cost of living in overcrowded boarding houses arranged by employment agencies. It is not unusual to find eight or 10 individuals crammed in one room, sharing bunk beds or sleeping on foam mattresses on the floor, with poor ventilation and sharing limited bathroom facilities. When a number of helpers staying in such boarding houses tested positive for Covid-19 at the height of the third wave, this only increased the discrimination and stigmatism they routinely face.
For years, migrant worker advocacy groups have been urging proper government regulation of boarding facilities, such as limiting the number of people allowed in a room and sharing a bathroom, and ensuring a minimum distance between beds. At present, there is simply no effective monitoring system.
The International Labour Organization, of which Hong Kong is a member, has been urging governments to pay close attention to the needs of migrant workers during the pandemic. In a recent statement, it said: "Protecting the health and livelihoods of migrant workers will also ensure the public health and wellbeing of local populations. Therefore, integrated approaches that include migrant workers in national social protection responses, in line with international human rights, international labour standards and the ILO Centenary Declaration for the Future of Work, and that are based on the principles of equality of treatment and non-discrimination, will play an important role in mitigating the effects of Covid-19 and support a swifter recovery."
Domestic helpers and other migrant workers are entitled to, and deserve, equal treatment as our city seeks to combat the ongoing global health emergency. To echo the UN Secretary-General, we should not leave them clinging to floating debris.
Melville Boase retired from Boase Cohen & Collins in 2019, some 34 years after co-founding the firm with Colin Cohen. He has been treasurer of the Mission for Migrant Workers in Hong Kong since 1981 and remains a tireless campaigner for social justice. He can be contacted at mtcboase@gmail.com.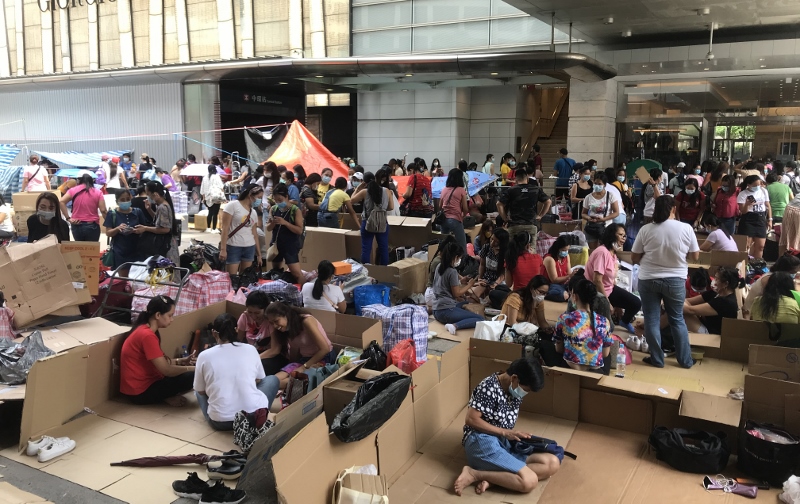 Amid ongoing social distancing regulations, domestic helpers gather in Central on their day off.