Travelling during a pandemic requires infinite patience and a willingness to adapt. Now back in Hong Kong and released from 14-day hotel isolation, BC&C Senior Partner Colin Cohen reflects on his eight-week adventure into the unknown.
FLIGHT OF FANCY
It's mid-June, Hong Kong's heat and humidity are oppressive and, like everyone, I'm growing pandemic-weary. I'm also fully immersed in a lengthy trial that will last well into July. At least we have the Euros football on TV to relieve the routine. But then, catching us all by surprise, our trial unexpectedly ends and I have free time on my hands. The lure of London – and the Euros – is too much, I decide to travel.
Already buoyant, my spirits soar pre-flight when Hong Kong health officials announce a new initiative to halve the 14-day hotel quarantine for inbound travellers if they produce a positive antibodies test. This is excellent news, my return in four weeks will be less painful than I thought. Little do I realise the twists and turns in store.
Negative Covid test in hand, I head to the airport for my first flight in 15 months and am greeted like a long-lost friend at Cathay Pacific check-in. The flight goes smoothly and I'm through Heathrow arrivals with surprising speed – no signs here of pandemic paranoia. Hotel quarantine at the Landmark London is a breeze compared with the rigorous regimes in Hong Kong. I'm allowed out on day two to complete my mandatory Covid test at a nearby clinic and I'm released after five days.
But jubilation is tempered with deflating news from Hong Kong. Just days after dangling the prospect of one-week quarantine for arrivals from Britain, our government has reacted to the growing threat of the Delta variant by banging it back up to three. Thoroughly irritated, I begin my holiday proper.
FRIENDS AND AN OLD FOE
Top priority is a visit to the home of my parents, who are in fine fettle. It's wonderful to see them, other family members and various friends in a whirlwind day of reunions. But, amid much joy, further annoying news: Hong Kong announces a new ban on direct flights from Britain. No one – not even fully inoculated residents such as I – will be allowed entry if they have been in the UK for more than two hours in the previous 21 days. I can imagine our leaders in a meeting: "What's our Covid policy today?" I resolve to just enjoy my holiday.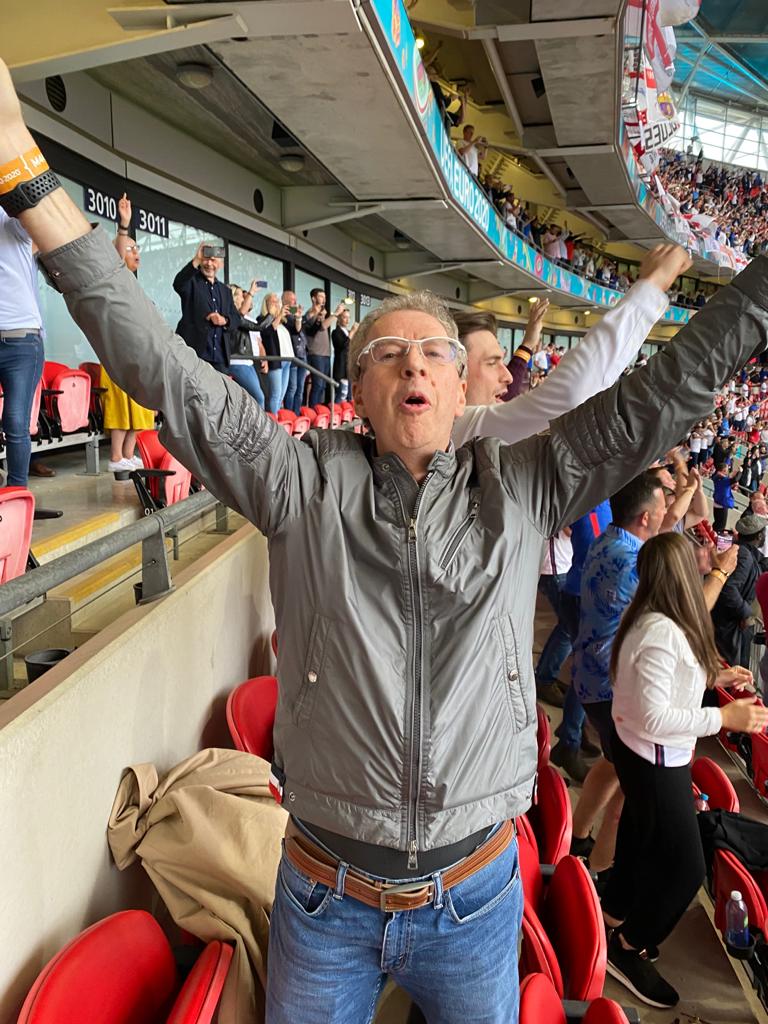 Our family reunion is swelled by my younger brother Ian, who has arrived from York for a momentous occasion – England vs Germany at Wembley. It's 55 years since we last beat our arch-rivals in a knockout game at a major tournament but the nation's mood is optimistic. Certainly, the excitement and anticipation are palpable as we walk to the stadium. Amid an easing of pandemic restrictions, 40,000 fans are allowed in and we are treated to a thrilling game which ends in a convincing 2-0 triumph for the home team. Cue delirium. At this heady moment, I consider the long flight, multiple Covid tests and hotel quarantine have been well worth it.
LIFE OF RILEY
It is turning into quite the football tour. Next up is dinner with former referee Mike Riley, an old friend from his days visiting Hong Kong for the Soccer Sevens. Mike is now in charge of the Premier League's match officials and is a constant source of advice as I pursue my own (amateur) refereeing career. He sympathises over my travel predicaments. Thankfully, a fabulous meal – we're dining at Fischer's, a magnificent restaurant in the style of early 20th century Vienna – and lots of football talk take my mind off the minor issue of when and how I'm going to return to Hong Kong.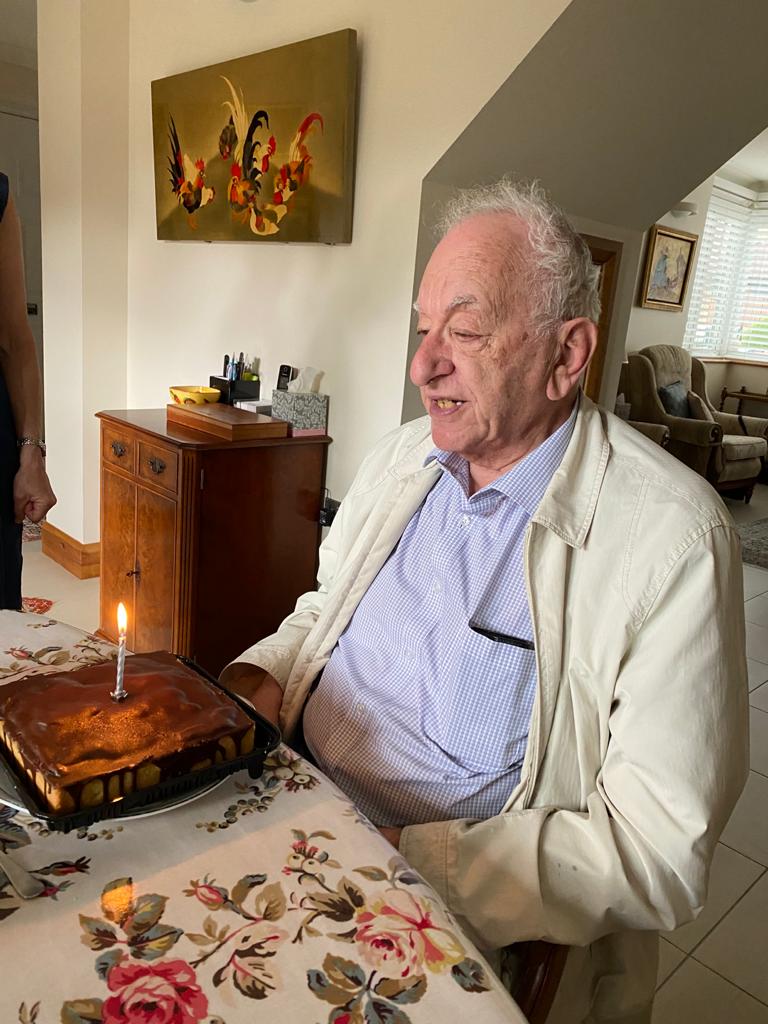 Tuesday 6th July brings a marvellous occasion, Dad's 91st birthday party, held at the London home of my youngest brother, Malcolm. Dad is on fine form, thrilled to be surrounded by so many of his family and looking forward to his next game of lawn bowls. I marvel at his zest for life. A wonderful day ends with Ian and I back at Wembley for the Euro semi-final between Italy and Spain. It's a pleasure to sit there as neutrals rather than endure the gnawing tension of watching England. Italy win on penalties. I return to the stadium 24 hours later for the second semi-final, England vs Denmark, this time with old buddy Mike Kingston. It's a poor game – hardly a novel experience for Arsenal fan Mike – with the high stakes clearly inhibiting both teams. England scrape home thanks to a dodgy penalty. Bring on Italy!
LORDING IT
An important catch-up at glorious Grey's Inn – historic base for many of the country's leading barristers – with Lord Ken Macdonald QC, former Director of Public Prosecutions for England and Wales. Ken is due to deliver our firm's annual Criminal Law Lecture in September. With the pandemic thwarting our efforts to have him visit Hong Kong, we've agreed he will deliver his talk via Zoom.
If the conversation with Ken is mainly law-related, the talk is all football when I meet brothers Stuart and Duncan Kirk at Smith & Wollensky, a fine steakhouse in Covent Garden. Stuart is another long-suffering Arsenal fan who I last saw at the Europa League final in Azerbaijan more than two years ago, when he departed glumly before the final whistle as my beloved Chelsea cantered to a 4-1 win. This evening, at least, he stays until the end.
In the meantime, searching for somewhere to do my "washout" – the three-week break in a third country that is required to circumvent Hong Kong's UK flight ban – I've settled on Switzerland. It has no quarantine on arrival, spectacular scenery and is home to my great friend Bruno Chiomento, who lives in Basel. It should be a pleasant diversion.
HIGHS, LOWS AND HOOLIGANS
Sunday 11th July, this could be a truly historic day. England are in their first major football final since 1966. Ian has arrived from York and we join the optimistic, giddy crowds converging on Wembley. The anthemic Three Lions is sung everywhere, fans are smiling and laughing. After the convulsions of Covid-19, this is akin to a healing process, a country united. And then, the feelgood balloon is popped by a minority of ticketless thugs, barging through security lines and access gates, kicking and punching their way into the stadium. Once in, they can't be challenged. It sets the tone for a deflating evening. England score (perhaps too) early, falter, concede a sloppy equaliser and fail to regain the initiative. Jubilation gives way to anxiety and, finally, numbing disappointment as Italy triumph on penalties. Fifty-five years of hurt and counting.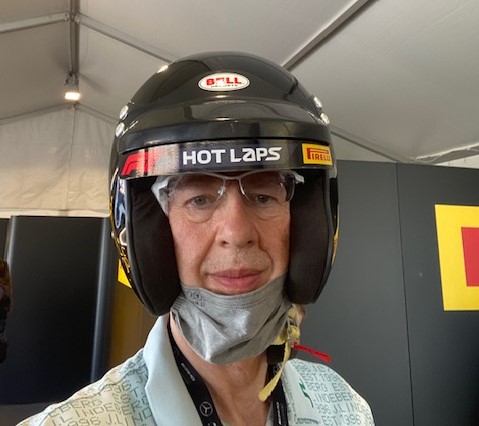 There is one Englishman who knows how to win, however. Formula 1 world champion Lewis Hamilton is the darling of the masses gathered at Silverstone for the British Grand Prix the following weekend. I attend Friday qualifying with old friend John Garratt, who watches with amusement as I embark on a "Pirelli Hot Lap", a high-speed tour of the famous circuit with a professional racing driver at the wheel. It's a thrilling experience. Brother Ian joins me for the weekend and Lewis duly obliges with victory, though not before a controversial first-lap collision with bitter rival Max Verstappen, who is forced to quit the race. Amid the joy, I can't help but reflect on how the UK is rebounding from Covid-19. Sure, case numbers are high, but so is the vaccination rate, meaning hospitalisations and fatalities are dramatically reduced. Ian and I are among 140,000 fans at Silverstone, having been part of a 70,000 throng at Wembley. Hong Kong, meanwhile, is far from the madding crowd: public gatherings remain limited to four people.
BLISSFUL IN BASEL
Monday 19th July is declared "Freedom Day" in England, with most legal restrictions on social contact lifted. They really are moving on. So am I, to Switzerland. This picturesque country is, like much of Europe, experiencing high case numbers but low fatalities. Mask-wearing is no longer required outdoors and most venues are open. I land in Basel where, as on previous visits, I'm booked into the magnificent Grand Hotel Les Trois Rois.
The highlight of my first week is a day trip to pretty Lucerne, where I take a cable car to the top of Mount Pilatus. The views are breathtaking and the weather glorious. In these surroundings, Covid-19 seems a world away but in fact is never far from my thoughts. Hong Kong's much-trumpeted antibodies test programme has only been partly implemented and there is no guarantee I can take one when I arrive back there. I keep my fingers crossed.
My second week in Basel is enlivened by longtime friend Tony Fekete, who arrives from his home in Germany for a catch-up. We wine and dine in style, including a wonderful evening with Bruno at the Michelin-starred Cheval Blanc restaurant. Bruno is the consummate host in his hometown, compiling an itinerary that includes Swiss Super League football (Basel thumping Sion 6-1) and multiple rounds of golf. This is the life.
HIKING AND BIKING
I bid farewell to Basel and catch the train to Klosters, where memories come flooding back. My parents would bring their three young sons skiing here every winter. I'm staying as a guest of cousin Vicki Harris and her husband Alex, who love the outdoors. On the one day we don't go hiking, Alex takes me on a 30km cycle ride along the banks of the Rhine. I'm certainly seeing a lot of Switzerland.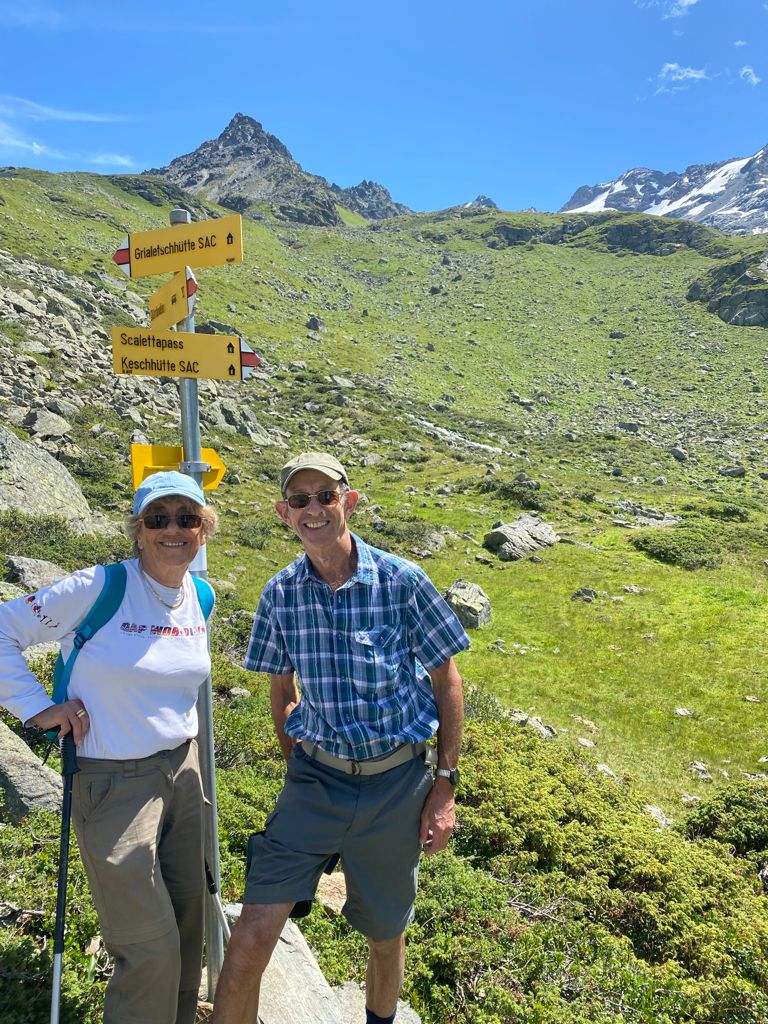 If I have one regret about this unforeseen trip, it's that I'm missing grandson Nathan's birthday on 6th August. His parents throw a party for him and I join in via video. Nathan wants to know when gung gung (grandfather) is coming home. How do I explain to a seven-year-old about quarantine, "washout" and antibodies tests? I simply tell him it will be soon.
The following day brings the news I've been waiting for: Hong Kong will commence antibodies tests at its airport on 18th August. Finally! It makes sense for me to postpone my return for a week to arrive on that day and hopefully do just seven days' hotel isolation. Once again, my admirable work colleagues assist with the changes in flight, Covid test and quarantine hotel. Their constant support is invaluable.
ONE FINAL TWIST
I now have an extra week in Switzerland, so I head to Zurich where I can at least arrange some business meetings. One of these is at law firm Blum & Grob, a fellow member of the Ally Law international network, where I have a pleasant chat with Partner Andre Wahrenberger. I was last here two years ago, giving a presentation on Sino-Swiss relations. Rather a lot has happened since.
I'm staying at the historic Baur au Lac hotel by Lake Zurich. While renowned for its stunning views of the Alps, stylish accommodation and award-winning gastronomy, it is even more famous for being the scene of football's 2015 anti-corruption raids, when police arrested various FIFA executives in their bedrooms at dawn. A news video at the time featured one football fat cat being escorted into a police car as hotel porters held up white sheets, unsuccessfully trying to shield him from the cameras. You had to admire the five-star service, at least.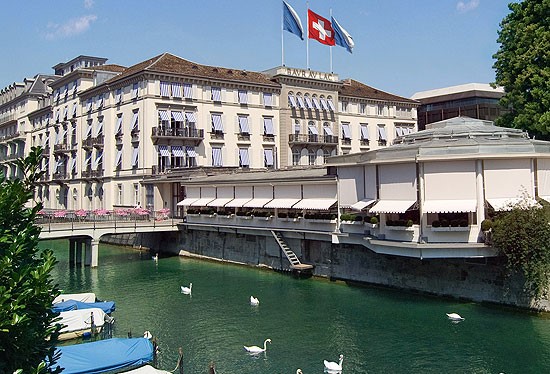 It is 16th August, some 24 hours before I'm due to leave, and a work colleague texts me from Hong Kong: "Don't miss your flight, quarantine is going up to three weeks!" Incredulous, I check the news. Sure enough, our government is about to add Switzerland and 14 other countries to its "high risk" list, meaning 21 days in isolation. The antibodies testing programme is also on hold. I need to fly back as scheduled in order to do "just" the 14 days. At least I have everything booked and in order – Covid test, plane seat and quarantine hotel room. Hundreds of other Hong Kong-bound travellers are less fortunate, their plans thrown into disarray.
In my time away, my quarantine prospects have gone from 14 days, to seven, to 21, back to 14, down to seven again and up once more to 21, with a UK flight ban for good measure, meaning a planned four-week trip has doubled in length. Carrie Lam and Co certainly keep you on your toes. I land in Hong Kong and check in for my 14-day prison sentence. Who knows when I will travel again?