Arbitration built on solid foundations
When it comes to settling disputes in Hong Kong's multi-billion-dollar construction sector, arbitration plays a significant role. Boase Cohen & Collins Associate Wendy Kwan explains why the process is so attractive to industry stakeholders.
Hong Kong, 18 February 2020: The construction industry is a hugely significant part of Hong Kong's economy. In 2016, the sector contributed 5.2% of gross domestic product, an increase of 73% from a decade earlier, according to the Research Office of the Legislative Council Secretariat.
Our city is undergoing a building boom driven by new office blocks, residential projects and major infrastructure works. The same LegCo report states there were 1,489 construction sites in the summer of 2018, almost 47% more than in 2008. As well, the gross value of construction works has grown significantly, from HK$100 billion in 2008 to HK$250 billion in 2017.
In such a competitive, financially-significant and multi-layered industry, it is inevitable that numerous disputes will emerge. In seeking settlement of such conflicts, parties are increasingly turning to arbitration. Some 13.7% of all cases registered with the Hong Kong International Arbitration Centre in 2018 came from the construction sector. Indeed, an arbitration clause is usually found in standard construction contracts.
In Hong Kong, arbitrations are governed by the Arbitration Ordinance (Cap. 609) that came into force on 1 June 2011. Arbitration – as opposed to litigation – is attractive to construction sector stakeholders because of its significant features. Opposing parties are free to choose the procedures they wish to apply and to appoint an independent third party, being a tribunal comprising one or more arbitrators, for adjudication of their dispute. Importantly, the process is private and confidential. No party may publish, disclose or communicate any information relating to arbitral proceedings and awards unless otherwise agreed by the parties or under any expressed exceptions.
Crucially, arbitration enjoys strong support from the courts. In presence of a valid arbitration agreement, subject to certain exceptions, the parties are bound to arbitrate instead of going to court. If a party ignores such an agreement and commences legal proceedings, the court may, if a party so requests, stay the court proceedings and refer the parties to arbitration under section 20(1) of the Arbitration Ordinance.
Why is arbitration attractive to construction disputes? First, there is the freedom to select an arbitrator with a construction background. This helps if there are many technical terms and concepts that are unique to the industry as the arbitrator will most likely have a better understanding of the dispute and can arrive at a more accurate assessment.
Secondly, arbitral rules are more flexible than court rules. The arbitrator has wide discretion to conduct the proceedings in a just and economical manner, such as at the stage of discovery, and is not bound by strict rules of evidence. This procedural flexibility, especially in the hands of an industry-specific arbitrator, helps speed up the proceedings.
A third attraction is consolidation. This involves the binding of multiple disputes into a single arbitration proceeding, a mechanism that can save unnecessary costs and avoid inconsistent decisions. Construction projects are often multi-party, involving contractors, designers, suppliers and sub-contractors. It is undesirable to have more than one arbitration commenced in reference to separate contracts but the same set of facts.
It should be stressed that arbitration is not necessarily cheaper than litigation, although its informality and flexibility usually means it takes less time. In court proceedings, the judge and use of the court room and facilities are public expenses. In arbitration, the parties equally bear interim fees for the arbitrator, venue and other supporting services, such as interpretation and transcription, until an award on costs is made.
However, on the question of costs, last year's introduction of third party funding for arbitration – courtesy of an amendment to the Arbitration Ordinance – eases some of these worries for construction industry stakeholders, especially smaller sub-contractors and suppliers who may not have the financial means to pursue claims.
Construction in Hong Kong is a high-stakes business. The LegCo report cited at the beginning of this article also states that our city is the third most expensive place in the world to build, after New York and San Francisco. Construction costs here are the biggest in Asia, some 45% higher than those in Tokyo and a whopping 123% higher than in Seoul.
Taking into consideration all factors – not least our city's reputation as one of Asia Pacific's most active arbitration centres – it is clear that the settling of disputes through arbitration will remain an integral and growing part of the construction industry.
Wendy Kwan has been an Associate with Boase Cohen & Collins since 2018, having joined the firm two years earlier. Her key areas of practice include commercial and corporate litigation and dispute resolution. She can be contacted at WendyKwan@boasecohencollins.com.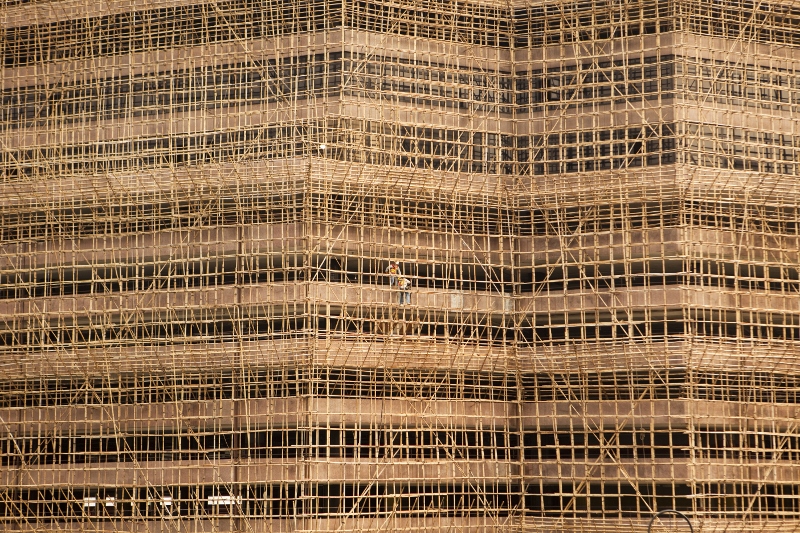 Hong Kong's construction industry has a gross value in excess of HK$250 billion per year.