To wear or not to wear? That is the question
As the Covid-19 pandemic continues unabated, most Hongkongers are still covering their faces with masks as they go about their lives. A sensible precaution or panicked overreaction? Boase Cohen & Collins Associate Kristie Wong considers the arguments.
Hong Kong, 20 March 2020: The outbreak and spread of the coronavirus all over the world has triggered a high level of anxiety, leading to stockpiling and panic buying of not only surgical masks and disinfectants, but also groceries and even tissue paper. People are seen queuing in line outside drugstores overnight just to buy face masks while places such as Macau, Singapore and South Korea have distributed masks to residents in order to ensure a regular supply.
While it is generally advised by the Centre for Health Protection here in Hong Kong to wear a mask in public places to prevent the spread of the virus, many infectious disease experts and specialists overseas have unequivocally stated that wearing a surgical mask is not effective in preventing the general public from catching Covid-19 and only those with respiratory symptoms should do so. Some have even gone so far as to say Asians wear masks in public for the reassuring effect on one another, a habit which is culturally driven. Is mask wearing more a social/cultural practice than an informed decision with scientific support?
The official estimated range of the incubation period of Covid-19 is two to 14 days. Hubei province in Mainland China, where the outbreak originated, once reported a case with an incubation period up of to 27 days. The median incubation period is estimated to be 5.1 days. This means that anyone could have contracted the virus and not be showing any symptoms while they go about their usual lives and engage in normal social activities. Scientist have also told us that people could be spreading the virus and infecting others before they even develop symptoms and that more than 10% of patients are infected by somebody who has the virus but does not yet have symptoms.
One factor which sets Hong Kong apart from many other places is how closely we live and work together. This is one of the most densely populated cities in the world and finding yourself in a crowded place is a fact of daily life. It is not easy to maintain a safe social distance even though knowing how important social distancing is to minimize the spread of Covid-19.
Although masks are generally designed to keep respiratory droplets in rather than out, which is mainly why their efficacy is questioned, it is sensible to wear a mask to minimize the risk of spreading the virus to others unknowingly. This will not only protect others but, in return, if everyone does the same, will protect yourself, too. It is, in my view, the minimal thing we can do to fulfil our civil obligation to help stop the spread of the virus, especially knowing how fast acting the virus is and that the elderly and those with compromised health are most at risk.
Apart from wearing a surgical mask, practicing good personal hygiene is vital at this critical time. Mask users should take note about how to properly wear, remove and dispose of a mask – otherwise this defeats the whole purpose of using one. It is also important for us to stay vigilant and be careful in differentiating rumours or gossip from actual news and science before sharing information about the virus with others in order not to cause unnecessary panic.
The Covid-19 pandemic is a case of deja vu for Hong Kong people, a painful reminder of the hard lessons learned during the SARS outbreak of 2003. But with the public's co-operation, sensible precautions and calm fortitude, this will just be another contagion that we shall overcome together.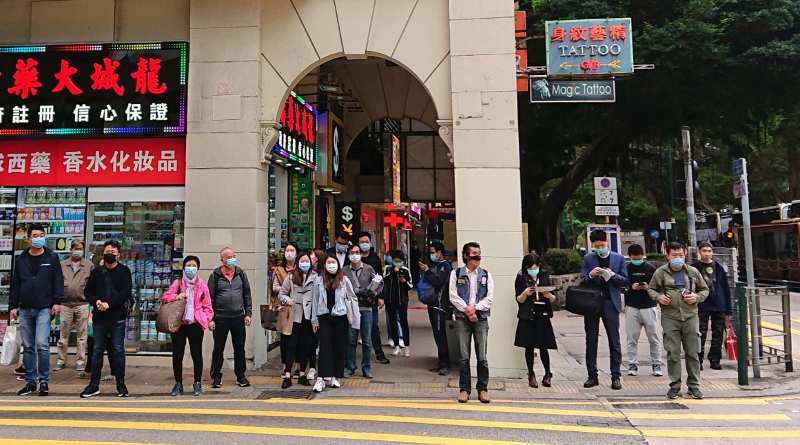 The vast majority of Hongkongers are wearing masks to combat the Covid-19 outbreak.