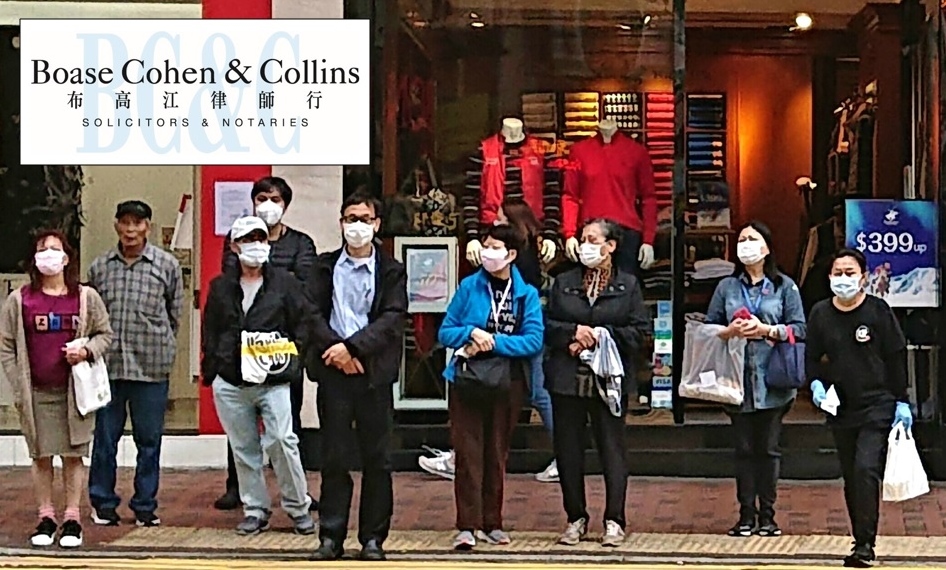 Covid-19: tighter restrictions in Hong Kong
Hong Kong, 1 April 2020: I'm sure you are aware by now that the Hong Kong government has recently imposed tighter restrictions regarding social distancing and use of public facilities in the wake of a steady daily increase in new coronavirus cases.
These include limiting public gatherings to a maximum of four people; closing gyms, cinemas and other leisure facilities for at least two weeks; and requiring bars and restaurants to operate at no more than half capacity, with orders to check customers' body temperatures and ensure tables are spaced at least 1.5 metres apart.
As I write, Hong Kong's cumulative confirmed cases have reached 714 – less than .01% of the population – with around 550 of these occurring in the past two weeks. Many of the new cases are imported infections arising from the fact that some 100,000 people returned here, mostly from Europe or the US, before the government's 14-day mandatory quarantine measure came into effect on 19 March. Our city's coronavirus fatalities stand at just four, a remarkably low figure in comparison with other jurisdictions.
As well, we have seen our first prosecutions – with custodial sentences imposed – of individuals who broke quarantine rules. Our government says some 70 people have violated mandatory home-quarantine orders and will be prosecuted under a "zero tolerance" policy.
On the subject of legal proceedings, there is an issue which many in the legal profession feel needs addressing with utmost urgency and that is the continuing general closure of our courts. Our Judiciary postponed a planned re-opening of the courts on 23 March for a further two weeks and there appears little likelihood of normal service being resumed for some time. The backlog of cases has become critical.
In a statement on 25 March, Chief Justice Geoffrey Ma stressed the Judiciary was trying to resolve the issue and was evaluating the use of video technology. I share the view of many other legal professionals that progress on this matter is painfully slow. There are no such problems in the UK, which last week rushed through emergency legislation to widely extend the use of video and audio technology in courts and tribunals. Authorities in the US have also acted quickly. As an example, New York City's courts are moving to a "virtual court operation" this week and this will be replicated across the state by the end of next week.
Already, the UK has seen a complex family law case decided via Skype. It featured 17 continuously active participants at the hearing and 11 witnesses, with those involved scattered all over the country. Further, two journalists observed the proceedings. The judge, Sir Nicholas Mostyn, remarked "the hearing proceeded almost without a hitch" and concluded: "In the current national crisis, it must be expected that hearings will be conducted remotely in this way as a matter of routine practice."
On Monday this week I was a judge in a University of Hong Kong moot competition. Multiple teams, organisers and judges, all of us handling countless digital documents – and the entire process was conducted via the Zoom app. It went perfectly smoothly.
Special circumstances require special measures and, I'm sure everyone agrees, we are currently experiencing special circumstances. It is to be hoped our Judiciary can implement decisive and effective measures sooner rather than later.
In finishing, I would again refer you to Dr David Owens' latest Covid-19 update for some reassuring and informative reading and to Ally Law's COVIDAlly blog which delivers information, insights and resources about the pandemic for the business community.
Stay safe, everybody!
Colin Cohen
Senior Partner
Boase Cohen & Collins